First Non-interest Based

Housing Project in Calicut, Kerala
Luqman Estates
Luqman Estates Having over 15 years of expertise and experience in property management across all major regions in the South India that includes Bangalore, Hyderabad, Chennai and Kerala, we have established ourselves as a benchmark to newer competition. Luqman Estates empire stands tall on trust, reliability and extensive ground-work that are well backed by our meticulously acquired knowledge-base from the domestic expertise and our global vision. With a stronger presence in Karnataka, we are more affluent with the real estate domain here that is unparalleled without compromising on personal connections built over years of successful collaborations.
---
Halal Housing
Halal Housing started its humble journey in 2014 with a unique objective of providing affordable and interest free housing. With the blessing of the Almighty, we have been able to realize our dreams and deliver on our promises. So far, in the last 5 years we have touched the lives of nearly 200 families to realize their dream of owning a house without going for a bank loan and falling a prey to interest (riba).

After consolidating a strong base in Bangalore, the Silicon Valley of India, we are now expanding to other cities as well. As the demand for Halal Housing projects are coming from all cities, we thought this is the right time to reach out to more and more families.
Halal Housing Difference
Halal Housing is based on the Islamic Financial model called Istisna - collaborative or participatory model. Like how God has made oxygen to breathe and water to drink for all human beings without any discrimination based on caste, color or creed, this financial model is also for the members of all communities irrespective of religion, caste or school of thought. This project will be a place of peace for everyone. There are immense benefits of this financial model and few are listed here for all of us to understand and know how this is different.
| | |
| --- | --- |
| Traditional Housing Model | Halal Housing Model |
| Based on Conventional Loan from Banks or Financial Institutions | No Bank Loan or external Investors. Direct saving of 15-20% |
| 12-15% of cost goes into project marketing | Zero marketing cost and buyers get the direct cost benefit |
| Homeowners owners end up paying an interest of 70-80% on top of the actual cost of the asset | The members pays only the actual cost of the asset even after three years of project inception |
| Extremely difficult to liquidate the asset at a higher value | The member becomes the exclusive owner of the asset in less than three years. |
| Homeowner stuck for 15-20 years till the EMI is complete | Completely stressless and flexible payment options |
| No Guarantee for the quality of construction, as the focus is to cut cost | 100% Guarantee for quality of construction |
| Execution is usually outsourced to third party contractors | Have our inhouse engineering team consisting of highly experienced industry veterans. |
| Projects hardly get delivered on time | We have always delivered the projects ahead oftime. |
| No peace of mind as it involves interest | Complete peace of mind as there is blessing |
Project Highlights
The state-of-art project will consist of two massive towers, each having 20 floors with eight units on each floor. Each unit has 3 bedrooms with balconies providing panoramic views. There will be a plethora of common amenities and recreational facilities. We will be commencing the construction by the first quarter of 2021 and plan to deliver by the end of 2023, God Willing.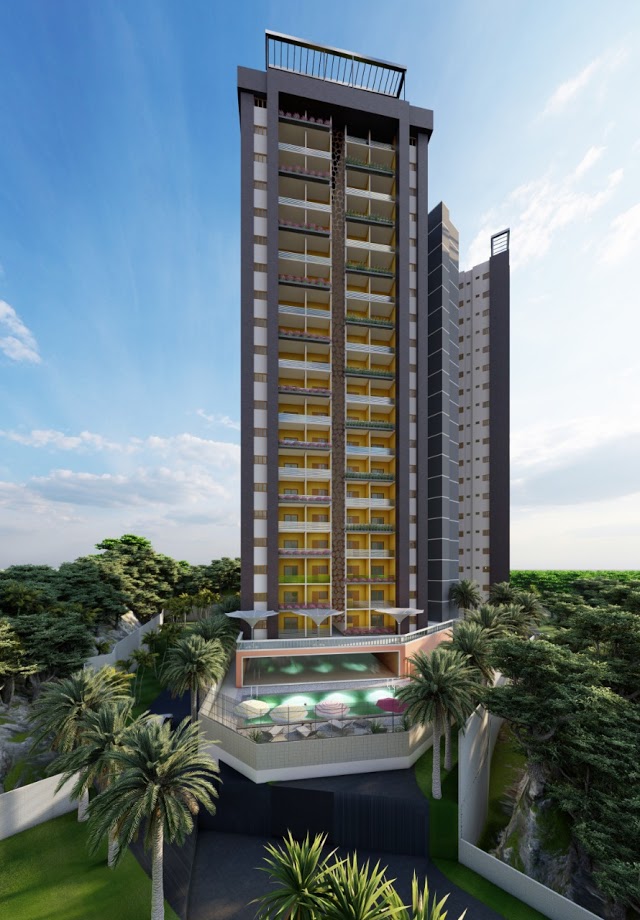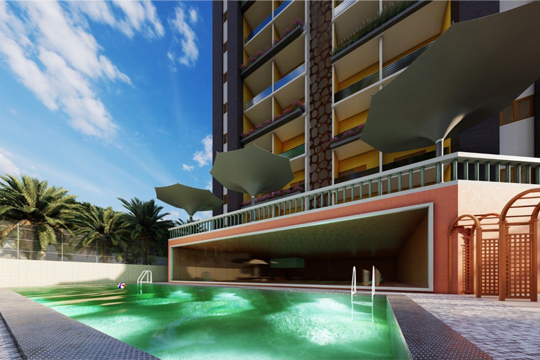 Project Amenities
Our first project in Calicut will have loads of amenities. A subset of them are shown here. Each tower will have two elevators and one common service elevator. One of the things that we are planning in this project is co-working space for people to work from near office locations during COVID kind of situations.

We also have in our master plan an incubation center for young children where their talents can get sharpened. Another attraction of this project would be an exclusive sisters' only swimming pool with a Spa and Jacuzzi.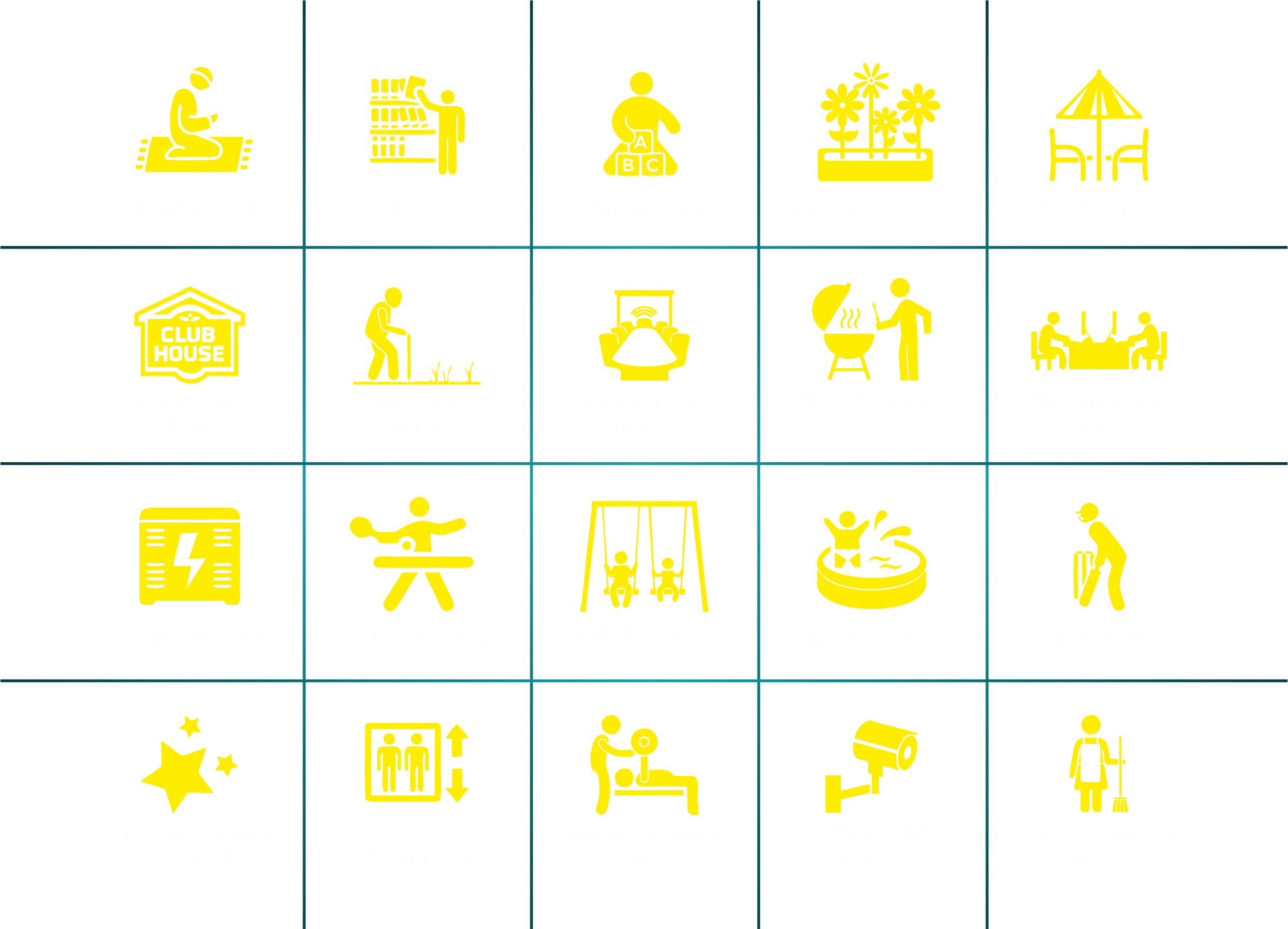 Floor Plans and Elevation
We have two types of flats, both are 3-BHK, almost identical, having the same super built-up area of 1275 Sq.Ft. Adhering to all corporation by-laws, our architects have come up with a very unique and most optimal design.
Technical Specification
STRUCTURE
. RCC framed structure designed as per seismic zone II requirements
. Super structure: framed structure
. Internal walls: 100mm/4"inch solid cement concrete blocks
. External walls: 150 mm/6"inch solid cement concrete blocks
. Roof slab: reinforced cement concrete/BB water proofing with CC screened
. Car parking: covered car parking
RAILING
. Staircase: MS hand rail
. Balcony: MS grills as per elevation design
FLOORING
. Digital or Double Charge vitrified tiles of well reputed brand for living, dining and bathrooms
. Granite Flooring for Kitchen
. Antiskid vitrified/ ceramic tiles in Balcony, Utility and Toilets
. Wall Tiles for Kitchen (2 Feet high from counter top) and Toilets for minimum 7 Feet.
. 4"inch skirting to all rooms
. Granite flooring in common areas
. Parking tiles for parking areas
KITCHEN
. Granite kitchen platform with stainless steel sink
. Two Feet dado above granite kitchen platform area in ceramics glazed tiles
. Provision for Electrical Chimney, Water Purifier and Refrigerator
. Provision for washing machine in utility area
. Copper tube for LPG gas connection from utility to Kitchen
DOORS & WINDOWS
. Main Door – Hunna Frame and Teak Wood Shutter with Melamine Polish
. All bedroom will be red sal frames and flush shutters enamel painted
. Balcony will have aluminum or PVC window with frills with pain glass panels
. Toilet and terrace doors will be hard wood frame and water resistant paint on the wet face
. Aluminum shutters comprising of 2 or 3 panels fitted with clear glass, dead lock, handles and tower blots with sliding window
POWER/ BACKUP GENERATORS
. BESCOM- POWER
. DG power backup
. Water 24 hours uninterrupted water supply through bore well
. Rain water harvesting system to recharge the water table
ELECTRICAL WORK
. TV point in living room and master bedroom
. Fire resistant electrical wires of anchor/ roma make or equivalent in common areas
. Elegant modular electrical switches of anchor/ equivalent make
. For safety one earth leakage circuit breaker
. Telephone points in mater bed room & living room
. One miniature circuit breaker (MCB) based main distribution box for each flat
. Provision for UPS Connection, Water purifier, Air Condition, Refrigerator, Washing Machine, in every flat.
TOILETS
. Ceramic glazed tiles dado up to 7 feet white colored (parry ware/ hind ware) make sanitary ware in all toilets
. Hot and cold shower unit of Jaguar/ Sanyo make or equivalent in bathrooms and wash basin in all toilets
. Provision of points for geyser and exhaust fan
. Large sized toilet ventilators made of powder coated aluminum or PVC with glass
SANITARY & C.P FITTINGS
. Hindware or Parry ware or Hyuida make.
. Floor mounted Western Commodes with attached flush tank
. Jaguar or Hindware or Parryware make – mixer in every toilet, one shower
PLASTERING & PAINTING
. All internal walls are smoothly plastered with lime rendering/ putty
. Interior walls with emulsion and external walls in exterior emulsion paints
. Exterior weather coat cement based paint
ELEVATOR & SECURITY
. 8 person Lift- Johnson, Kone, Otis or equivalent
. External lift walls with granite wall cladding
. 24 hours security with separate room and intercom facility
Pricing and Payment
Updated on 30/Sep/2020
Our commercial launch is scheduled in the first quarter of 2021.
At the moment we are taking only premium investors.
The original base price has been revised. Please get in touch with our project director Mr. Firoz for details
Geographically, our project will be in the heart of Calicut city within Corporation Limits, surrounded by big malls, residential apartments and high rise buildings. The location is just behind another luxury project by the name HiLite Metromax. When the sun is on the east the shadow of our project will fall on Metromax and vise-versa. The entry to our project is hardly 100m from Calicut bypass (NH-66) that runs along peninsular India across western ghats connecting Panvel in Maharashtra to Kanyakumari in Tamil Nadu. From Thondayad bypass on Pottammal Road, our project is hardly at a distance of 250 meters.

Geologically, our project will be built on a small hillock off the National Highway 66, providing breathtaking views in all directions - on one side the waters of the Great Arabian Sea and on the other side the plush green Calicut city with tall buildings popping out here and there. The contour of our 1.50 acres land has steep level variations within itself that our architects are designing a gorgeous curvy road to navigate between the two towers. Whatever said and done, we will be maintaining the natural contour and the original landscape, untouched, even after the project is complete in three years.
Just 100 metres off NH 66, and well within city limits, it enjoys close proximity to all major city hotspots. The 1.50-acre land is situated on a small hillock and surrounded by plush greenery one side and views of the Arabian Sea on the other, guaranteeing a peaceful ambience.